Little Nemo (1911), el cortometraje de animación de Windsor McCay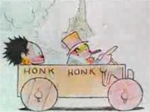 Aquí dejamos el famoso corto de animación de Windsor McCay Little Nemo (El pequeño Nemo) realizado en 1911. Con los personajes creados en 1905 y publicados por la prensa de W. Randolph Hearst hasta 1911. Ese año cambió al periódico rival de Hearst con otro título Little Nemo in the Land of the Wonderful Dreams, dejando la serie tres años despues. Muy interesado en la animación, McCay realiza varios trabajos en este campo aún en fase primitiva (mudo y monocromático) mostrando una experimentación temprana de los recursos narrativos y estilisticos que luego marcan el rumbo al cine animado…
Little Nemo nos muestra una época en la que lo mostrado era, por sí mismo, un espectáculo que no necesitaba un complejo guión para destacar. Muestra una pasión en la creación de la obra, una fascinación en como cobran vida sus personajes, en sus movimientos y expresiones.
https://siguealconejoblanco.es/wp-content/uploads/2012/12/littlenemo-788724.png
112
150
Juan F Molinera
https://storage.googleapis.com/scb22uploads/2021/05/logo-enfold-header.svg
Juan F Molinera
2009-03-21 05:20:00
2018-02-25 12:08:24
Little Nemo (1911), el cortometraje de animación de Windsor McCay