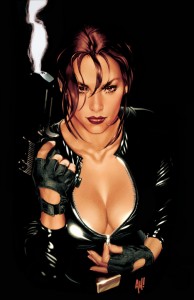 ¿Quien no ha alucinado alguna vez con el realismo exuberante de los dibujos de AH?
Adam Hughes es comúnmente conocido por sus estilizadas interpretaciones de las mujeres, ya sean superheroinas, damiselas en peligro o figuras de fantasía. Cuando describe su propio trabajo utiliza el término "naturalidad" en contraposición a "realismo", definiendo su arte perfectamente.
Mr. Hughes comienza a trabajar en el mundo del cómic a a edad de 19 años (1985). En 1988 muestra su incipiente talento en un comic llamado Maze Agency, el cual es su primera incursión en el medio, realizándolo durante un año. Pero esta labor llamó la atención de las grandes editoriales, y en 1989 comienza a trabajar en Justice League en DC, colección en la que permanecerá 2 años, realizando portadas y páginas interiores (a partir de 1990 solo realizaría las portadas).
Su reconocida labor portadística le abriría las puertas de otra colección de DC, Wonder Woman, aunque también realizaría trabajos para Dark Horse, en su serie Ghost. Ha trabajando para series como Gen13, Top Cow's Tomb Raider, Mike Oeming's Hammer of the Gods, Vampirella, Black Bull Entertainment's Gatecrasher, Catwoman o Mark Wheatley's Frankenstein Mobster.
Hoy día, Adam es uno de los más prestigiosos portadistas y realiza, él mismo, lápices, tintas y colores en sus portadas, usando tanto medios tradicionales como digitales.
Y, como suele decirse, para muestra un botón… o varios botones. Aquí tenéis una galería con parte de su trabajo. Que la disfrutéis.
https://siguealconejoblanco.es/wp-content/uploads/2011/08/adam-hughes32.jpg
250
640
Obivalderobi
https://storage.googleapis.com/scb22uploads/2021/05/logo-enfold-header.svg
Obivalderobi
2011-08-05 09:00:58
2018-02-25 12:22:41
[Galería] Adam Hughes