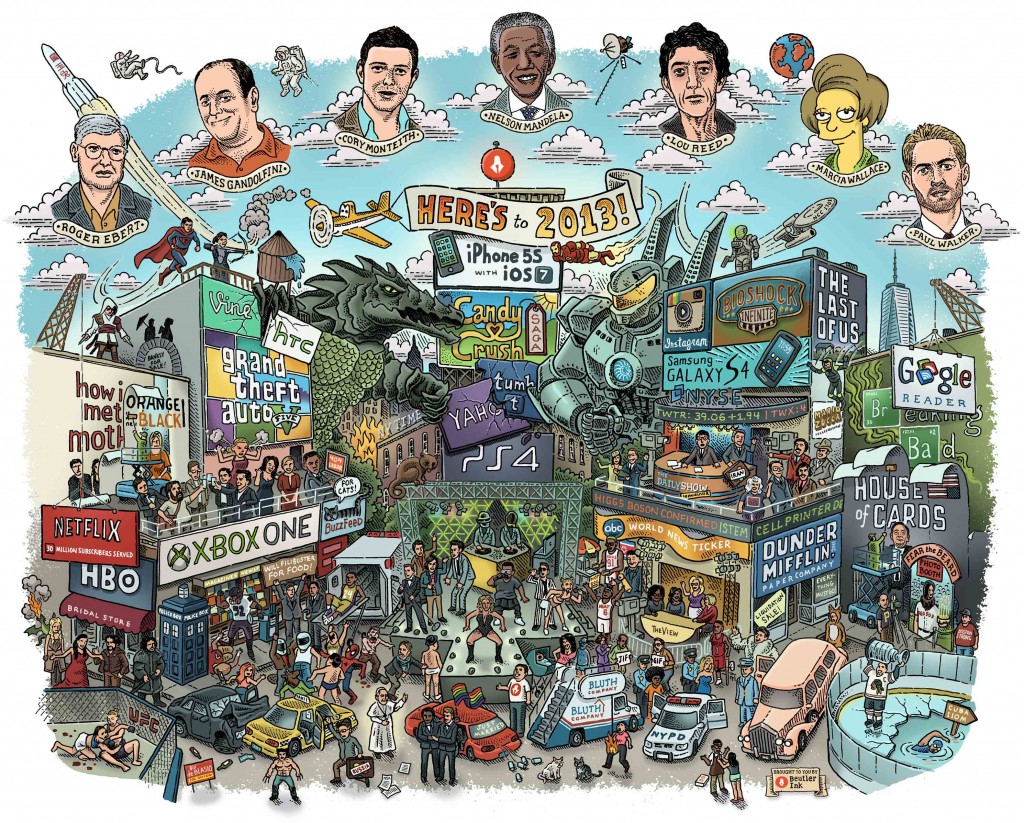 Aunque pueda parecer imposible, el ilustrador Mario Zucca ha conseguido juntar, en una sola viñeta, los eventos más importantes acaecidos en el 2013. En la misma podéis encontrar desde la muerte de Nelson Mandela hasta la última temporada de "Como conocí a vuestra madre". Os dejamos con la lista de algunos de ellos:
Tina Fey y Amy Poehler en los Globs de Oro
El retorno a la música de Justin Timberlake
Baltimore Ravens derrotan a San Francisco 49ers en la Super Bowl XLVII
Lanzamiento de la app Vine
Beyonce en la Superbowl XLVII
Premieres Netflix House of Cards
Harlem Shake
Pelea UCF (Rousey vs. Carmouche)
Anulación de la Prop 8
Elección del Papa Francisco
Robin Thicke ("Blurred Lines") vs. Daft Punk ("Get Lucky") por la canción del verano
Candy Crush Saga
Muerte de Roger Ebert
Arresto de Reese Witherspoon
Iron Man 3
Lesión de Kobe Bryant
Lanzamiento del Samsung Galaxy S4
Edward Snowden
Lindsay Lohan en rehabilitación
Arrested Development temporada 4
Temporada final The Office
Behind the Candelabra
Temporada final de Como conocí a vuestra Madre
Star Trek en el Oscuridad,
El Gran Gatsby
Resacón en las Vegas III
Yahoo compra Tumblr
Kimye tiene un bebé
El escándalo Paula Deen
Muere James Gandolfini
John Oliver reemplaza a Jon Stewart en The Daily Show
Juego de Tronos: la Bora Roja
World War Z
Superman: el hombre de acero
Miami Heat gana la NBA
Chicago Blackhawks gana la Stanley Cup,
Nace el Principe Jorge de Cambridge
Cory Monteith de Glee muere
Netflix series Orange se convierte en New Black premieres
Pacific Rim
The Wolverine
Miley Cyrus haciendo twerking
Doctor Who 50 Aniversario
Fin de Breaking Bad
What Does the Fox Say? se convierte en viral
Grand Theft Auto V
Lanzamiento de iOS 7
Lanzamiento del iPhone 5S/5C
Obamacare
Muere Lou Reed
Jonas Brothers se separan
Netflix sobrepasa la suscripciones a la HBO
Marcia Wallace, voz de Edna Krabappel muere
Gravity
El juego de Ender
Boston Red Sox gana la World Series
The Hunger Games: Catching Fire
Twitter IPO
Playstation 4
Xbox One
Assassin's Creed IV
Anchorman 2: The Legend Continues.
https://storage.googleapis.com/scb22uploads/2014/01/mario-zucca-2013-scaled.jpg
1528
1900
Juan F Molinera
https://storage.googleapis.com/scb22uploads/2021/05/logo-enfold-header.svg
Juan F Molinera
2014-01-01 19:05:55
2018-02-25 12:55:40
2013 en una sola viñeta