Queen and Country, de Greg Rucka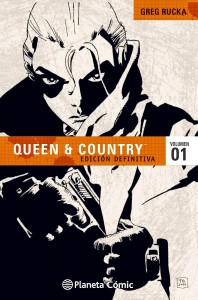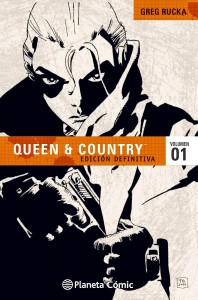 Vuelve Queen and Country!!! Posiblemente la obra magna del conocido Greg Rucka, publicada hace muchos años por Norma y que injustamente llevaba otros tantos años si una edición disponible. Planeta intenta hacer justicia y la vuelve a publicar en su totalidad en 4 tomos integrales.
Una historia que trata sobre el MI6, Servicio de inteligencia del Reino Unido y más concretamente de una de sus agentes, Tara Chace. De su día a día, sus tramas de espionaje, maniobras políticas y otras turbias cuestiones inherentes al mundo de los servicios secretos.
Pero ojo, no os esperéis un cómic de palomitas al más puro estilo Jack Bauer. Rucka opta por un tono totalmente realista, crudo y en el que la parte personal y psicologica de los protagonistas tiene tanta o más importancia que las misiones en sí.
Una serie que se construye sobre los personajes, con Tara Chance como principal motor pero con una galería de secundarios que finalmente acaban por cautivarnos hasta el punto que vivimos sus problemas como si fueran nuestros.
Un cómic de espías que gustará más a los habituales seguidores de series de la HBO que a los fans de James Bond y que es de compra obligatoria para los seguidores de las historias de Rucka.
https://storage.googleapis.com/scb22uploads/2015/05/queen-country-1-198x300.jpg
300
198
Banda Deseñada
https://storage.googleapis.com/scb22uploads/2021/05/logo-enfold-header.svg
Banda Deseñada
2015-05-09 22:09:12
2018-02-26 22:30:55
Queen and Country, de Greg Rucka