Kong The King, de Osvaldo Medina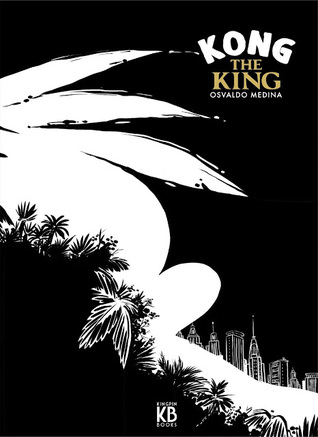 Kong The King es una clara muestra del potencial y talento presente en el vecino panorama del cómic portugués. Una obra con la que su autor, Osvaldo Medina, se hizo merecedor de todos y cuanto premios posibles hubiera en Portugal. Merecidamente, por supuesto, porque Kong es una lección de narrativa solo al alcance de grandes talentos.
Curiosamente, pese a que presentemos esta obra como cómic portugués, Kong no es una obra dependiente del idioma, porque en sus casi 150 páginas, no encontramos palabras. Una obra muda, en un sobrio y evocador blanco y negro, que lo apuesta todo al talento narrativo de su autor. Claramente, el bagaje profesional de Osvaldo Medina como animador hace que los cimientos de la obra estén totalmente asentados.
En lo temático, Kong es una actualización del clásico del cine; King Kong. En parte homenaje, en parte renovación del clásico. Una trama que sirve de excusa para lanzar todo el talento gráfico del autor, que con un dibujo ágil y lleno de recursos, convierte la lectura de Kong en una agradable experiencia.
Una buena oportunidad, llena de garantías, para aproximarse al panorama de la BD portuguesa actual.
https://storage.googleapis.com/scb22uploads/2018/03/kong-the-king-thumb.jpg
630
1200
Banda Deseñada
https://storage.googleapis.com/scb22uploads/2021/05/logo-enfold-header.svg
Banda Deseñada
2018-01-18 18:22:58
2018-02-26 22:27:49
Kong The King, de Osvaldo Medina