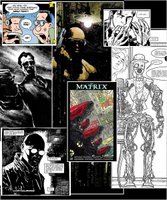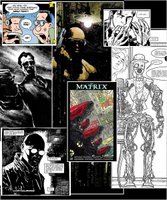 Edición original: The Matrix Comics Graphic Novel Nº 1 USA
Fecha de edición: marzo de 2008
Guión: Dave Gibbons, Paul Chadwick, David Lapham, Neil Gaiman, Peter Bagge, Ted Mckeever, Troy Nixey, Larry Wachowski, Andy Wachowski, Bill Sienkiewicz, John Van Fleet, Ryder Windham, Gregory Ruth
Dibujo: Kilian Plunkett, Bill Sienkiewicz, Troy Nixey, David Lapham, Dave Gibbons, Peter Bagge, Paul Chadwick, Ted Mckeever, John Van Fleet, Geof Darrow, Gregory Ruth
Tinta: David Lapham, Bill Sienkiewicz, Dave Gibbons, Peter Bagge, Ted Mckeever, Paul Chadwick, Kilian Plunkett, Troy Nixey, John Van Fleet, Geof Darrow, Gregory Ruth
Color: Varios autores.Formato: Libro rústica, 160 págs. Panini cómics
Corría el año 1997 cuando los guionistas de cómic Andy y Larry Wachowski idearon el mundo que se plasmaría tan sólo dos años después en la famosa película. En aquel tiempo, éstos contactaron con varios creadores para que aportaran su grano de arena al proyecto y crearan pequeñas historias que complementaran la línea principal.
Algunas de esas historias se crearon antes de la película pero la mayoría surgieron tras el boom del film. The Matrix Comics (al igual que los cortos de animación Animatrix) son 12 historias realizadas por un equipo creativo distinto, cada uno con su estilo y personalidad que, en conjunto, forman el punto fuerte del volumen.
El conjunto de autores que participan es importante: Neil Gaiman (creador de The Sandman), con un magnífico relato escrito ("Goliath"), ilustrado por Bill Sienkiewicz, Ted Mckeever en "A life less empty" ("Una vida no tan vacía"), explora las posibilidades de tratar a los que eligieron tomar la pastilla azul en vez de la roja, Peter Bagge, el cual, en clave de humor muestra lo que muchos pensaron al salir del cine (una de las historia más flojas, por otra parte) o David Lapham ("There Are no Flowers in the Real World" – "No hay flores en el mundo real"), en la que un miembro de la resistencia que debe sobrevivir en Matrix hasta que una nave rescate a la suya, que está abandonada después de un ataque de centinelas. Pero posiblemente la mejor historia sea la de los hermanos Wachowski ("Bits and Pieces of Information"), ilustrada por G. Darrow (diseñador conceptual de la historia) pone la cuestión del origen del conflicto entre maquinas y humanos. Esta historia aporta contenido al universo matrix como demuestra que se ampliara para el corto de animación "The Second Renaissance"
En definitiva, se trata de un volumen destinado a los fanáticos del mundo de Matrix que complementa la historia principal pero no aporta detalles significativos. No encontraremos un gran arco argumental pero la participación de estos autores lo hace muy un recopilatorio que merece la pena comprar.
https://storage.googleapis.com/scb22uploads/2009/03/matrixcomics-776958.jpg
200
167
Juan F Molinera
https://storage.googleapis.com/scb22uploads/2021/05/logo-enfold-header.svg
Juan F Molinera
2009-03-29 05:46:00
2018-02-27 19:28:16
Matrix cómics vol.1