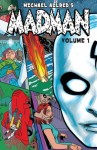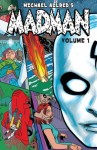 Dos volúmenes hay en las tiendas de la divertidísima serie Madman de Mike Allred editada de la mano de Planeta DeAgostini. Formalmente deudor de The Spirit de Will Eisner y conceptualmente cercano al Flash Gordon de Alex Raymond, el personaje de Madman es un superhéroe (o antihéroe) atípico. Un carácter próximo a Spiderman, pero más ingenuo. Con un lenguaje que a veces roza lo infantil y que otras discurre por profundas reflexiones metafísicas. El protagonista es un entrañable amnésico vuelto a la vida por unos estrambóticos científicos que vive sus peripecias en technicolor contra todo tipo de malvados y alienígenas.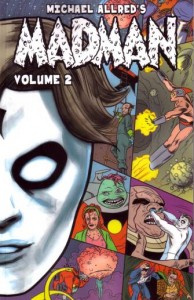 Heredera de Jack Kirby, de imaginación desbordada, con personajes disparatados salidos del Rock and Roll, la cultura pop y la ciencia ficción más camp, y moteado con cachivaches insólitos, la serie de Madman está protagonizada por un tipo con un nombre tan genial como Frank Einstein y está entreverada de diálogos tan tronchantes e inesperados como los clásicos de Peter Parker. Pero es también un trabajo de profunda hondura filosófica. Allred, tirando del hilo del origen incierto del personaje, pone en boca de su protagonista toda una serie de cuestiones existenciales que le preocupan.

Engalanado por la fabulosa labor como colorista de Laura Allred, esposa del autor, Madman es un comic enloquecido, delirante y maravilloso como su propio título indica. Es una pena que hayamos sabido por David Hernando, editor de Planeta, que el primer volumen se vendió mucho menos de lo esperado. La editorial lo vuelve a intentar con este tomo 2 y los aficionados nos inquietamos ante el futuro que le pueda esperar al número 3. Hágame caso, ponga Peta Zetas en su vida y agénciese las aventuras de Frank Einstein. Una obra maestra con tantos superlativos y tantas esdrújulas como esta misma reseña.
[AMAZONPRODUCTS region="es" asin="8467463864″]
[AMAZONPRODUCTS region="es" asin="8467463872″]
https://storage.googleapis.com/scb22uploads/2014/12/allred1-97x150.jpg
150
97
Fran_G_Lara
https://storage.googleapis.com/scb22uploads/2021/05/logo-enfold-header.svg
Fran_G_Lara
2014-12-31 09:00:32
2018-02-27 19:23:05
Madman, de Mike Allred