[Preview BD] Templarios 1: La caída, de Jordan Mechner y LeUyen Pham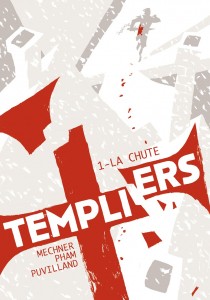 Templiers 1: La Chute
Guión: Jordan Mechner
Dibujo: LeUyen Pham
Color: Alex Puvilland
Editorial: Akileos. 240 páginas
A la venta en Francia a partir del 16 de enero de 2014
Conocido por ser el programador y creador original de los juegos "Prince of Persia", Jordan Mechner divide su tiempo en el diseño de videojuegos y en la elaboración de guiones, uno de los cuales nos llega en forma de cómic con la saga "Templarios" que da su pistoletazo de salida este mes en Francia.
Aunque fue publicado en EEUU en julio de 2013, "Templarios 1: La caída" llega a finales de mes al país vecino como uno de los títulos más interesantes de comienzos de año. Apoyado en el excelente trabajo gráfico de la autora vietnamita LeUyen Pham ("Prince of Persia 1 y 2" – Dargaud -), el cómic se sitúa en el s.XIV y tiene como protagonista a Martin, uno de los pocos templarios que escapó cuando el rey de Francia tomó la decisión de acabar con la Orden del Temple. Avergonzado por haber sobrevivido mientras sus nobles hermanos soportan la cárcel y la tortura, reúne a un grupo de ex-templarios y decide embarcarse en una empresa desesperada: realizar el mayor atraco del siglo XIV.
El resultado es un cómic de aventuras que atrapa desde la primera página y que sorprende por el carácter que imprime Pham a sus viñetas en una historia que a priori hubiéramos imaginado con un estilo de bd más clásico.
[AMAZONPRODUCTS region="es" asin="2355741565″]
[AMAZONPRODUCTS region="es" asin="1596433930″]
https://storage.googleapis.com/scb22uploads/2014/01/templiers-1.jpg
1228
860
Juan F Molinera
https://storage.googleapis.com/scb22uploads/2021/05/logo-enfold-header.svg
Juan F Molinera
2014-01-03 12:00:10
2018-02-25 09:04:19
[Preview BD] Templarios 1: La caída, de Jordan Mechner y LeUyen Pham