Los cómics más vendidos en Francia la semana del 17 al 23 de septiembre de 2012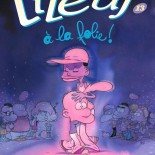 Una semana más, Edistat.com nos ofrece la lista de las publicaciones más vendidas en Francia y que se realiza a partir de las encuestas realizadas por TiteLive en 1200 puntos de venta de todo el territorio francés -excluyendo Bélgica y Suiza-. Del 17 al 23 de septiembre el protagonista indiscutible sigue siendo el número 13 de "Titeuf", el cómic de Zep que lidera la clasificación general con otros 19.669 ejemplares vendidos en siete días. Por otra parte, son 14 los cómics que aparecen en la lista, dos más que la semana anterior y que llegan al 7% del total, repartidos en 8 bande dessinées, 4 mangas y 2 cómics americanos.
Los 14 cómics más vendidos son los siguientes (se indica, entre paréntesis al final del título, la posición que ocupan en la clasificación total de libros más vendidos):
1. Titeuf T.13: A La Folie, de Zep. Glenat (1). Misma posición.
2. Naruto T.56, de Masashi Kishimoto. Kana (5). Misma posición.
3. Fairy Tail T.26 de Mashima, Hiro. Pika (27). Misma posición.
4. Walking Dead T.16, Un Vaste Monde. Robert Kirkman y Charlie Adlard. Delcourt (50). Misma posición.
5. Alix Senator T.1 . Les Aigles De Sang, de Mangin Demarez y Martin. Casterman (63). Misma posición.

6. Game Over N08 Cold Case, de Midam And Co. Mad Fabrik (86). Posición anterior: 7.
7. Lady S T.8 Raison D'etat, de Van Hamme y Aymond . Dupuis (99). Posición anterior: 9.
8. Notes T.7: Fourmicapunk, de Boulet. Delcourt (102). Nuevo en lista.
9. Silex And The City T.3, de Jul. Dargaud (107). Posición anterior: 8.
10. Tu Mourras Moins Bete T.2, de Marion Montaigne. Ankama (173). Nuevo en lista.

11. Billy Bat T.4, de Naoki Urasawa y Takashi Nagasaki. Pika (175). Nuevo en lista.
12. One Piece T.63 de Oda, Eiichiro. Glenat (182). Regreso a la lista.
13. Jour J T.10: Le Gang Kennedy, de Fred Duval, Jean Pierre Pecau y Colin Wilson. Delcourt (184). Nuevo en lista
14. Les Simpson T.19, de Matt Groening. Jungle. (192). Regreso a la lista.
Salen de la lista
Bleach T.49, The Lost Agent. Tite Kubo. Glenat.
Gto Shonan 14 Days T.7, de Toru Fujisawa. Pika.
Pablo T.2: Apollinaire, de Julie Birmant y Clement Oubrerie. Dargaud.
Pandora Hearts T.15, de Jun Mochizuki. Ki-oon.
https://siguealconejoblanco.es/wp-content/uploads/2012/09/titeuf_a_la_folie.jpg
1063
780
Juan F Molinera
https://storage.googleapis.com/scb22uploads/2021/05/logo-enfold-header.svg
Juan F Molinera
2012-10-01 12:00:05
2018-02-25 09:02:35
Los cómics más vendidos en Francia la semana del 17 al 23 de septiembre de 2012