Threshold, de Avatar Press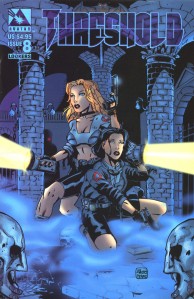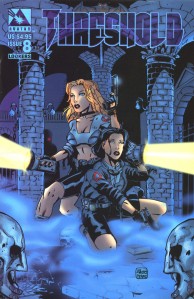 No sé si recordáis los tiempos en los que las editoriales solían tener una cabecera para recoger historias cortas de personajes que no tenía series propias. A bote pronto, recuerdo en la casa de las ideas los "Marvel Comics Presents", o incluso "Marvel team up" y, por qué no, "The Brave and the Bold" en la Distinguida Competencia.
Incluso estas cabeceras servían como experimento editorial para lanzar personajes hacia series regulares o limitadas (por ejemplo, Adam Warlock comenzó su andadura en "Marvel Premiere", y el Capitán Marvel en "Marvel Superheroes"). Otras series con fines similares fueron "Marvel Spotlight" o "Marvel Feature".
Bueno, pues eso es Threshold dentro de la editorial Avatar Press. Esta joven editorial (1996) abarca dentro de sus filas a autores como Warren Ellis (Black Summer), Frank Miller o Alan Moore y edita cómics que no se acogen al famoso sello del Comic Code Authority (¿por qué será?).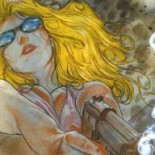 En Threshold podemos ver en cada número historias cortas de la más diversa índole (vampiras, investigadoras, aventureras, algunas de ellas de trazo erótico y pornográfico) de personajes, algunos de los cuales han tenido la oportunidad de ser lanzados con series propias. Dentro de sus más de cincuenta números, ha acogido en sus páginas a "bad girls" como Pandora, Demonslayer, Webwitch, Razor, etc. y todos los números cuentan con portadas alternativas y censuradas, realizadas por autores "hot" como, por ejemplo, Al Rio.
En la siguiente galería de portadas podrás ver una muestra del arte que se reúne en esta colección y, también a los personajes nacidos dentro del sello editorial. Detrás de cada portada hay una portada alternativa. Para verlas…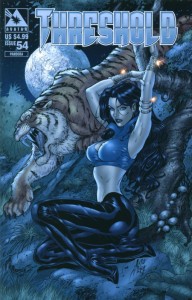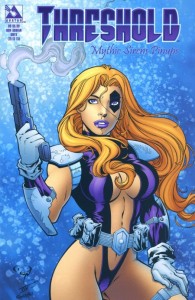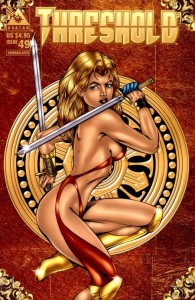 PANDORA (Al Rio ambas portadas)
Onyx (Ron Adrian y Al Rio)
DEMONSLAYER (Marat Mychaels ambas portadas)
CYBERANGELS (Bill Maus ambas portadas)
MIDNIGHT DOYLE (ambas por Brian Leblanc)
ANA (Al Rio ambas portadas)
RAZOR (Matt Martin ambas portadas)
HELLINA (Patrick Fillion y Juan José Ryp)
FAUST (Tim Vigil ambas portadas)
RAVENING (Jacen Burrows y Pat Quinn)
WILD KNIGHT (Dave Hoover) y MEDORA (Mike Delaney)
FURIES (Kevin Sharpe y Karl Waller)
LUNA (Caesar) y CIMMERIAN (Jacen Burrows)
LOOKERS (Patrick Fillion ambas portadas)
THRESHOLD: PANDORA (Juan José Ryp ambas portadas)
https://storage.googleapis.com/scb22uploads/2012/01/threshold-8-00-lookers.jpg
299
194
Obivalderobi
https://storage.googleapis.com/scb22uploads/2021/05/logo-enfold-header.svg
Obivalderobi
2012-01-01 10:00:03
2018-02-26 18:56:30
Threshold, de Avatar Press