The Marvel Comics Guide to New York City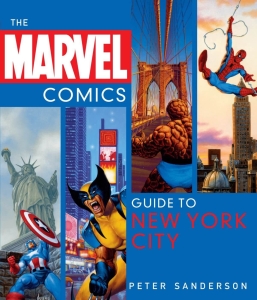 The Marvel Comics Guide to New York City
Autor: Peter Sanderson
Pocket Books
Precio: 13 dólares.
Una de las muchas novedades que ofreció el universo Marvel a partir de los años 60 fue, sin duda, la ubicación de sus principales superhéroes en un espacio urbano real. Las aventuras de Spiderman o Los Cuatro Fantásticos se desarrollaban en la ciudad de Nueva York en donde se podían identificar sus principales monumentos y con los que frecuentemente se interactuaba. Este rasgo permitía el distanciamiento de las ciudades clásicas de DC como "Metropolis" o "Gotham" y generaba una mayor identificación entre héroe y lector.
Ha pasado ya muchos años desde las primeras historias de Marvel en las calles de Nueva York y desde entonces han sucedido grandes momentos en espacios muy concretos de la ciudad. Publicado en noviembre de 2007, el libro que recomendamos hoy, "The Marvel Comics Guide to New York City", es una guía casi de bolsillo que tiene el propósito de recopilar en que zonas de la ciudad de Nueva York se han desarrollado los principales acontecimientos del Universo Marvel. Así, descubriremos que la casa del Doctor Extraño se encuentra en Greenwich Village, que el apartamento de Matt Murdock se encontraba en Lexington Avenue antes de que le atacara Kingpin o que el famoso Edificio Baxter estaría ubicado entre la calle 42 y Madison Avenue.
El autor de esta guía es Peter Sanderson (autor de "The Official Handbook of the Marvel Universe" y "X-Men: The Ultimate Guide") aunando perfectamente datos turísticos habituales con aquellos más frikis. Aquellos que les pique la curiosidad pueden adquirirlo en Amazon a un precio muy asequible.
https://storage.googleapis.com/scb22uploads/2010/12/The-Marvel-Comics-Guide-to-New-York-City-1.jpeg
1400
1200
Juan F Molinera
https://storage.googleapis.com/scb22uploads/2021/05/logo-enfold-header.svg
Juan F Molinera
2010-12-11 12:00:40
2022-03-27 19:37:17
The Marvel Comics Guide to New York City