Dark Horse publicará el trabajo de Steve Ditko en "Creepy" y "Eerie"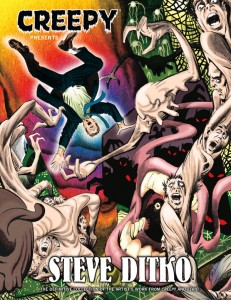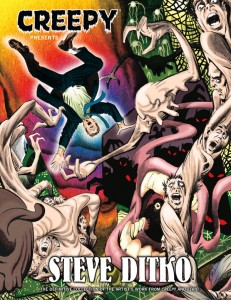 Entre 1966 y 1967, tras participar en algunas de las principales series de Marvel Comics a comienzos de la década, Steve Ditko volvía a la editorial Charlton Comics donde trabajaría en personajes como "Blue Beetle" (1967–1968), "The Question" (1967–1968) o "Captain Atom" (1965–1967). Con más libertad que en otras editoriales, Ditko dibujo 16 historias para las publicaciones de terror de Warren Publishing "Creepy" y "Eerie", en donde, con guiones de Archie Goodwin, perfeccionó unas viñetas en un exquisito blanco y negro reforzadas por un efecto de "aguada" que pueden considerarse uno de los capítulos más importantes de su obra.
Las historias que realizó Steve Ditko para Charlton Comics fueron las siguientes:
Creepy
#9 1966 "The Spirit Of The Thing" 8 páginas
#11 "Beast Man" 8 páginas
#12 "Blood Of The Werewolf" 8 páginas
#13 1966 "Second Chance" 8 páginas
#14 1967 "Where Sorcery Lives" 8 páginas
#15 1967 "City Of Doom" 8 páginas
#16 1967 "The Sands That Change" 9 páginas
#27 1969 "Collector's Edition" 8 páginas
Eerie
#3 1966 "Room With A View" 8 páginas
#4 1966 "Shrieking Man" 7 páginas
#5 1966 "Black Magic" 8 páginas
#6 1966 "Deep Ruby" 6 páginas
#7 1966 "The Fly" 6 páginas
#8 1967 "Demon Sword" 8 páginas
#9 1967 "Isle Of The Beast" 6 páginas
#10 1967 "Warrior Of Death" 8 páginas
Aquellos fans de Steve Ditko que quieran hacerse con este periodo en un solo volumen pueden hacerlo a partir del mes de agosto, fecha en que Dark Horse publicará una edición especial de 128 páginas en tapa dura al precio de 19.99 dólares. Para ir abriendo el apatetito, os dejamos con la primera de sus historias para Creepy, se llama "The Spirit Of The Thing" y fue publicada en 1966 en el número 9.
https://storage.googleapis.com/scb22uploads/2013/03/creepy-presents-steve-ditko-231x300.jpg
300
231
Juan F Molinera
https://storage.googleapis.com/scb22uploads/2021/05/logo-enfold-header.svg
Juan F Molinera
2013-03-26 12:00:02
2018-02-26 19:02:44
Dark Horse publicará el trabajo de Steve Ditko en "Creepy" y "Eerie"