Hansi, la chica que amaba la esvástica (1976)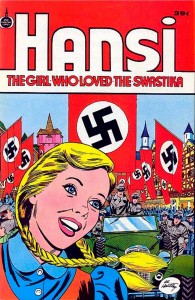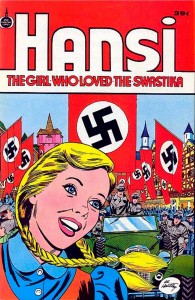 Si nos entretuviéramos en realizar una lista de los 50 títulos más bizarros de la historia del cómic, sin duda alguna, se encontraría "Hansi, The Girl Who Loved the Swastika", escrito y dibujado por Al Hartley en 1976 y publicado por Spire Christian Comics.
Con 32 páginas y adaptando al cómic la autobiografía de Maria Anne Hirschmann del mismo nombre (1973), la obra nos cuenta la vida de Hansi, una joven de los Sudetes que ingresa en el programa para jóvenes del partido nazi, sufre la II Guerra Mundial y consigue llegar a America donde se "encuentra con Cristo".
El cómic es una exaltación religiosa y de orgullo patrio americano (la protagonista pasa de odiar a EEUU en su infancia a descubrir el sueño americano) con un estilo que remite a los cómics de Archie. Contra todo pronóstico, fue reimpreso en 1977 y republicado en dos ediciones diferentes en 1978 y 1980. En 1997, quizás por las críticas y burlas acumuladas, se publicó de nuevo con un nuevo título "Hansi: The Girl Who Left the Swastika" ("Hansi, la chica que abandonó la esvástica").
https://storage.googleapis.com/scb22uploads/2014/02/hansi-the-girl-who-loved-195x300.jpg
300
195
Juan F Molinera
https://storage.googleapis.com/scb22uploads/2021/05/logo-enfold-header.svg
Juan F Molinera
2014-02-14 09:00:04
2018-02-26 19:04:44
Hansi, la chica que amaba la esvástica (1976)