El origen de la compra de la idea del traje negro de Spiderman
En Agosto de 1982, con tan sólo 22 años, el entonces fan de Marvel, Randy Schueller, recibió la siguiente carta del editor jefe de la editorial: James Shooter. Esta carta suponía la compra de la idea que éste habia propuesto en las oficinas de Marvel, de la cual surgíó el cambio de traje de Spiderman en el número 8 de las "Secret Wars", Veneno y todo lo demás.
Éste pagó 220 doláres y es muy significativo las primeras palabras de la misma. "I want to buy it". Os dejamos con la imagen de la carta y su transcripción, pero no os perdáis la historia completa en "Comic book resources".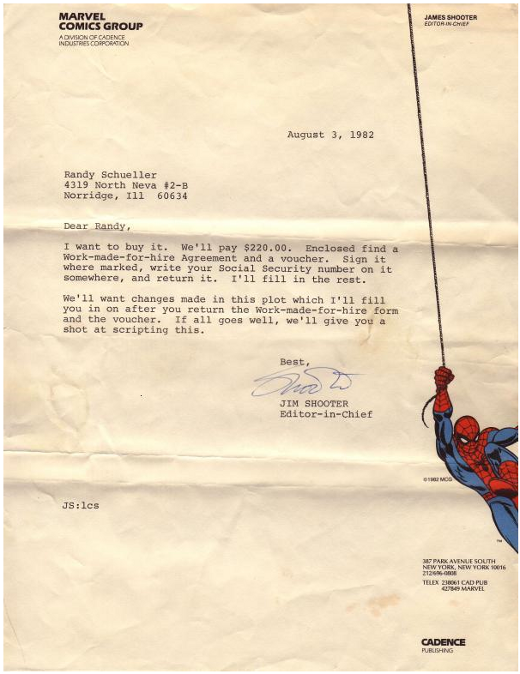 Transcripción:
MARVEL COMICS GROUP
A DIVISION OF CADENCE INDUSTRIES CORPORATION
JAMES SHOOTER
EDITOR-IN-CHIEF
August 3, 1982
Randy Schueller
4319 North Neva #2-B
Norridge, Ill 60634
Dear Randy,
I want to buy it. We we'll pay you $220.00. Enclosed find a Work-made-for-hire Agreement and a voucher. Sign it where marked, write your Social Security number on it somewhere, and return it. I'll fill in the rest.
We"ll want changes made in this plot which I'll fill you in on after you return the Work-made-for-hire form and the voucher. If all goes well, we'll give you a shot at scripting this.
Best,
(Signed)
JIM SHOOTER
Editor-in-Chief
JS:lcs
https://storage.googleapis.com/scb22uploads/2009/12/secret-wars-8-spiderman-100x150.jpg
150
100
Juan F Molinera
https://storage.googleapis.com/scb22uploads/2021/05/logo-enfold-header.svg
Juan F Molinera
2009-12-18 09:00:48
2018-02-26 18:47:12
El origen de la compra de la idea del traje negro de Spiderman