El nacimiento de Wonder Woman
Gracias a "Letters of Note" traemos un documento que forma parte ya de la historia del cómic. Se trata de una carta de principios de los 40 del dibujante Harry G. Peter a William Moulton Marston en la cual revelaba varios bocetos de la nueva superheroina de Marston, Wonder Woman.
Si os fijáis en la imagen, se puede apreciar también la respuesta escrita de Marston a Peter debajo del mensaje original. Meses después, Wonder Woman hizo su debut en "All Star Comics #8″..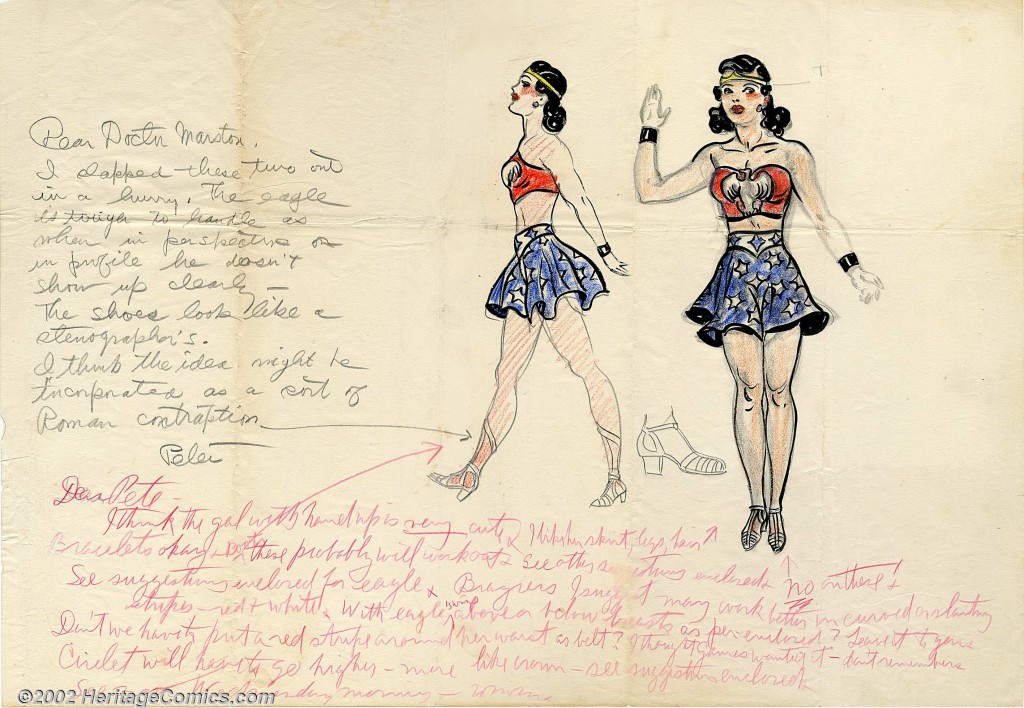 Transcripción de la carta:
Dear Dr. Marston,
I slapped these two out in a hurry. The eagle is tough to handle as when in perspective or in profile he doesn't show up clearly — The shoes look like a stenographer's.
I think the idea might be incorporated as a sort of Roman contraption.
Peter
Dear Pete –
I think the gal with hand up is very cute. I like her skirt, legs, hair. Bracelets okay + boots. These probably will work out + see other suggestions enclosed. No on these. See suggestions enclosed for eagle. Braziers I suggest may work better in curved or slanting stripes – red + white. With eagle's wings above or below breasts as per-enclosed? Leave it to you. Don't we have to put a red stripe around her waist as belt? I thought Gaines wanted it — don't remember. Circlet will have to go higher — more like crown — see suggestions enclosed.
See you Wednesday morning — WMM
https://siguealconejoblanco.es/wp-content/uploads/2012/12/file-724263.jpg
200
140
Juan F Molinera
https://storage.googleapis.com/scb22uploads/2021/05/logo-enfold-header.svg
Juan F Molinera
2010-10-25 09:00:39
2018-02-26 18:49:18
El nacimiento de Wonder Woman