La mesa de trabajo de Michael Ransom Getty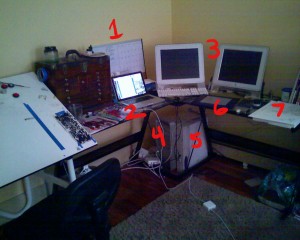 Retomamos nuestra sección de mesas de trabajo de autores de cómic con la correspondiente a Michael Ransom Getty, excelente dibujante e ilustrador americano que ha desarrollado su actividad para las grandes editoriales americanas como Marvel (Amazing Spider-Man Family #7, Skrull Kill Krew #1-5), DC Comics ("War of the Green Lanterns Aftermath") e Image Comics (Guarding the Globe #1-5).
Como podéis ver, cada uno de los elementos que aparecen en las imágenes han sido numerados y detallados por el autor formando un interesante tour para cualquier aficionado al cómic.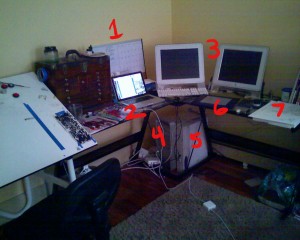 1: Calendario de tareas.
2: 13″ Macbook Pro. Utilizado para tener un archivo de referencia durante el trabajo.
3: 2 x 17″ Studio Displays.
4: Intel G5 torre.
5: Lightbox.
6: Wacom 6″x9″ Tablet.
7: Páginas de "Guarding the Globe".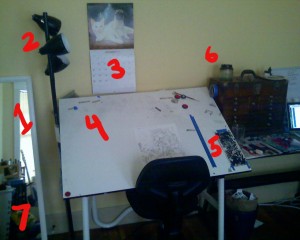 1: Espejo para poses y expresiones.
2: Focos con luces de differences colores.
3: Calendario.
4: Mesa de trabajo.
5: Papel para pruebas de tinta.
6: Una vela (por si acaso).
7: Desorden.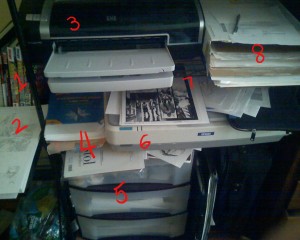 1: Libros de referencia (Invincible).
2: Un montón de los primeros tres números de GtG.
3: Impresora HP 9800.
4: Papel para abocetar (Strathmore 500 series).
5: Cajones para guardar el trabajo.
6: Epson scanner.
7: Arte de Sean Murphy Hellblazer.
8: Páginas de Marvel.
Superhéroes, por Michael Ransom Getty
Mesas de trabajo de autores de cómic
Blog de Michael Ransom Getty
https://storage.googleapis.com/scb22uploads/2012/12/estudio-michael-ransom-getty-1-300x240.jpg
240
300
Juan F Molinera
https://storage.googleapis.com/scb22uploads/2021/05/logo-enfold-header.svg
Juan F Molinera
2012-12-28 09:00:46
2018-02-26 19:02:13
La mesa de trabajo de Michael Ransom Getty