Crossover Spawn/Batman, de Frank Miller y Todd McFarlane (1994)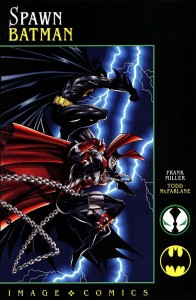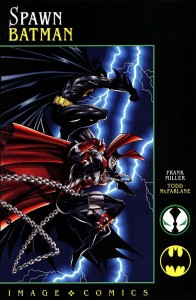 Corría el año 1994 cuando Frank Miller se hizo cargo de un interesante crossover entre Batman y Spawn, personaje creado por Todd McFarlane dos años antes y el cual sería el encargado del dibujo del cómic.
Se trata de un momento en el ha escrito los mejores número de la serie de Daredevil y ha comenzado su trabajo en el primer Sin City. Este crossover se sitúa, por tanto, justo ocho años después de "The Dark Knight Returns" y ocho antes del fallido "The Dark Knight Strikes Again", es decir, en el ecuador y en un momento de definición de lo que Miller querrá hacer posteriormente con el hombre murciélago. Un momento en el que el barroco y exagerado estilo de McFarlane acabará calando en sus dos siguientes proyectos con el héroe de Gotham: All Star Batman and Robin the Boy Wonder y The Dark Knight Strikes Again.
Pese a ser publicado por las dos editoriales dentro de sus correspondientes series regulares "Spawn/Batman" no seguían la continuidad correspondiente (dentro del propio cómic se especificaba "…is a companion piece to DC Comics' The Dark Knight Returns. It does not represent current DC Comics continuity."). El cómic, a su vez, supuso un homenaje a Jack Kirby, el cual falleció ese mismo año 94.
Para aquellos que no recuerden este crossover, os dejamos con unas cuantas imágenes del mismo:
https://storage.googleapis.com/scb22uploads/2010/11/Spawn-vs-Batman-1-196x300.jpg
300
196
Juan F Molinera
https://storage.googleapis.com/scb22uploads/2021/05/logo-enfold-header.svg
Juan F Molinera
2010-11-25 09:00:28
2018-02-26 18:49:29
Crossover Spawn/Batman, de Frank Miller y Todd McFarlane (1994)