"Batman y yo", la autobiografía de Bob Kane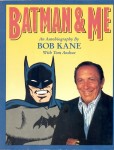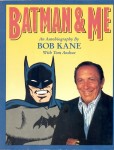 Este es uno de los primeros libros que compré sobre Batman, hace ya unos cuantos años. Se trata de una autobiografía de Bob Kane, creador del Cruzado de la Capa, escrita con la ayuda de Tom Andrae y publicado por Eclipse Books en 1989.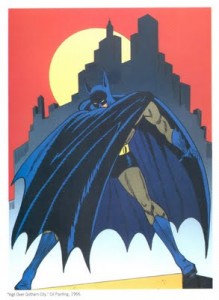 Kane nos cuenta sus comienzos en el mundo del comic, sus influencias como las peliculas de "El Zorro" y los seriales de la radio, en especial "The Green Hornet". Se pueden ver páginas de su primera historieta publicada en Detective Picture Stories, "The case of the missing heir", de "Peter Pupp" en Jumbo Comics y de su primer trabajo profesional, "Hiram Hick" en Wow what a magazine!, que le permitió trabajar en los estudios de animación Fleischer. Cuando entró en DC, llamada National en aquel entonces, dibujó las series de "Rusty and his pals" y "Clip Carson", junto a Bill Finger que escribía los guiones. Un dia le comentó a Bill que tenía un nuevo personaje llamado The Bat-Man, y Finger le ayudó a desarrollarlo, para más tarde llegar a ser el Batman que todos conocemos.
En el libro se incluyen tres historias en unas páginas a color, "Batman and Robin visit the 1940 New York World´s Fair" publicada en New York World´s Fair de 1940; "The secret of Bruce Wayne" de World´s Finest Comics #6 y "The North Pole crimes" de World´s Finest Comics #8, así como reproducciones de litografías y un diseño para la capa de Batman, el Batplano y el Batmovil de la pelicula de 1989. Profusamente ilustrado, hay fotografías de Kane con Michael Keaton vestido de Batman, y otra con su mujer y Jack Nicholson en el estreno del film. Cuenta con una introducción escrita por Milton Caniff, un libro interesante que nos muestra una parte de la vida de Bob Kane.
Aquellos interesados en adquirirlo pueden hacerlo haciendo clic aquí.
https://storage.googleapis.com/scb22uploads/2010/09/batman-and-me-bobkane-114x150.jpg
150
114
Gothamnews
https://storage.googleapis.com/scb22uploads/2021/05/logo-enfold-header.svg
Gothamnews
2010-09-10 12:00:08
2018-02-26 18:49:06
"Batman y yo", la autobiografía de Bob Kane