The World´s Finest Expo – II Jornada de Ilustración del Cómic de Málaga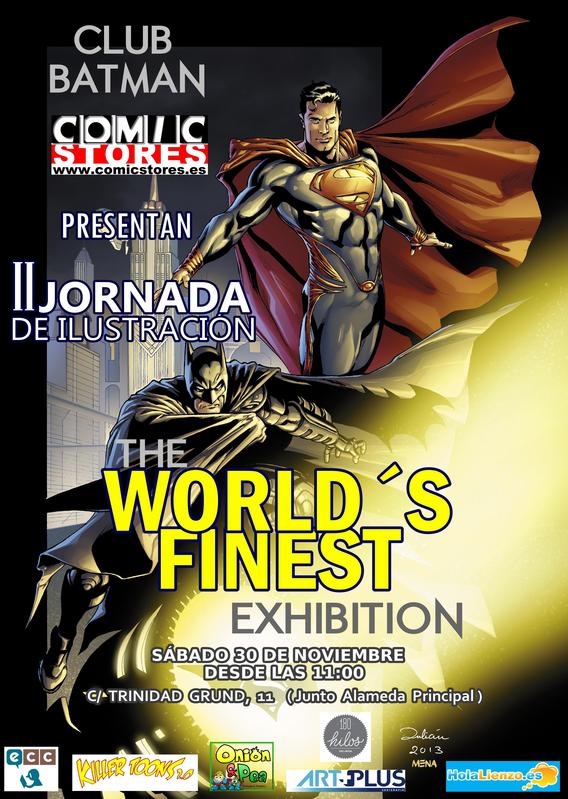 En 1938 se publicó el nº1 de Action Comics con la creación de Jerry Siegel y Joe Shuster. Un año después, debido al éxito del personaje, apareció su contrapunto: Batman. Desde entonces el éxito no ha parado de crecer. Hoy, 75 años después forman parte de la iconología de nuestro tiempo, traspasando las fronteras del papel, apareciendo con gran éxito en cine, televisión, radio, videojuegos, merchandising…
Para conmemorar este evento, el Club Batman organiza una exposición a modo de homenaje titulada "The World´s Finest" en la que se mostrarán ilustraciones de diversos autores como Jose Luis Garcia-Lopez, Dave Bullock, Fernando Dagnino, Tomás M. Aranda y Mike Deodato Jr. entre otros.
Horarios II Jornada de Ilustración / The World´s Finest Expo
En Comic Stores, c/Trinidad Grund, 11, Málaga (junto a Alameda Principal) el próximo sábado día 30.
10:45 Inauguración The World´s Finest Expo
11:00 Firmas de Javier Mena, Miriam Jordan y Mayka Jimenez.
12:30 Taller de cómic de Javier Mena sobre cómo dibujar cartoon.
16:30 Firmas de Pepe Valencia.
18:00 Charla "Onion & Pea, cocinando un eBook" y sesión de firmas con sus autores Villena & Tomaselli.
19:00 Firmas de Francisco Porcel.
20:00 Charla "Autores españoles en DC y Marvel" por Javier Mena.
20:30 Sorteo lote de cómics de ECC.
Más información en http://club-batman.blogspot.com.es/
0
0
Juan F Molinera
https://storage.googleapis.com/scb22uploads/2021/05/logo-enfold-header.svg
Juan F Molinera
2013-11-19 15:00:48
2018-03-05 08:25:41
The World´s Finest Expo – II Jornada de Ilustración del Cómic de Málaga