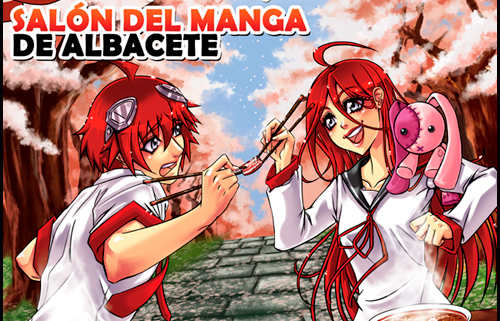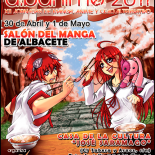 Albanime 2011: XII Jornadas de Manga, Anime y Ocio alternativo
Cuando: 30 de abril y 1 de mayo de 2011
Donde: Casa de la Cultura "José Saramago" de Albacete
El próximo sábado y domingo tendrán lugar en Albacete las XII Jornadas de Manga, Anime y Ocio Alternativo y en el que se darán cita autores como Sergio Bleda, Nacho Fernández, Vicente Cifuentes, Mayoral o Jesulink.
Durante estos dos días se celebrarán conferencias, talleres, un ciclo de anime, concursos.. Esta es la programación confirmada:
Sala de conferencias
SÁBADO: 
12:00 – 13:30. Concurso: Password
13:30 – 15:00. Charla: Creación de Videojuegos. Por: Fantasymundo

16:00 – 17:30. Charla: Nacho Fernandez.
17:30 – 19:00. Charla: Jesulink
DOMINGO:
12:00 – 14:00. Charla: "Sergio Bleda, retrospectiva"
15:00 – 16:30. Charla: "Iniciación y perfeccionamiento del Cosplay"
. Por: Lirin
17:00 – 18:30. Charla: Creación de Fanzines y guiones de cómic. 
Por: Studio Kat y Studio Wargh!
Concursos y torneos
CONCURSOS
Cosplay
Karaoke
OtaKuiz
Bunkakuiz
Password
Concurso de Cartel "Albanime 2012"
50×15: "¿Quieres ser el más friky?
¡Wagashi Wagashi!
JUEGOS DE MESA
Jungle Speed
Magic: The Gathering – Booster Draft
Yu-Gi-Oh!
Mario Kart Mini R-C
VIDEOJUEGOS
Mario Kart Wii
Super Smash Bros Brawl (individual)
Super Smash Bros Brawl (parejas)
Tekken 6
Fifa 2011
Mortal Kombat
Tatsunoko VS Capcom
Marvel VS Capcom 3
Blazblue: Continuum Shift
Call of Duty: Modern Warfare 2
DIBUJO
Concurso de Dibujo Rápido
Concurso de Creación de Personaje
MOVE IT
V Campeonato de Balón Prisionero "Bola de Dan"
Concurso de Para Para
Torneo de Jugger
Mario Kart "Extreme"
stands
STANDS COMERCIALES:
Konoha no Merchan
Momogoro
Tokyo Shop
Regalosdecine
Mythos Comics
Kanpeki Setto
Candy & Candy
CREADORES:
Jesulink
Archivo Zero
Studio Kat
Studio Wargh!
ASOCIACIONES:
Nexus Outsiders
Alicante Otaku
Otaku no michi
N-Generation Albacete
Hyper Techno Aqua
Más información en la web oficial del evento.
https://storage.googleapis.com/scb22uploads/2011/04/cartelalbanime-cartel.png
611
500
Juan F Molinera
https://storage.googleapis.com/scb22uploads/2021/05/logo-enfold-header.svg
Juan F Molinera
2011-04-25 12:00:25
2018-02-25 08:56:46
Albanime 2011